Work the Fun
Take your WFH from "Ugh!" to "Ahhhh."
---
Sasskia Wells / September 8, 2020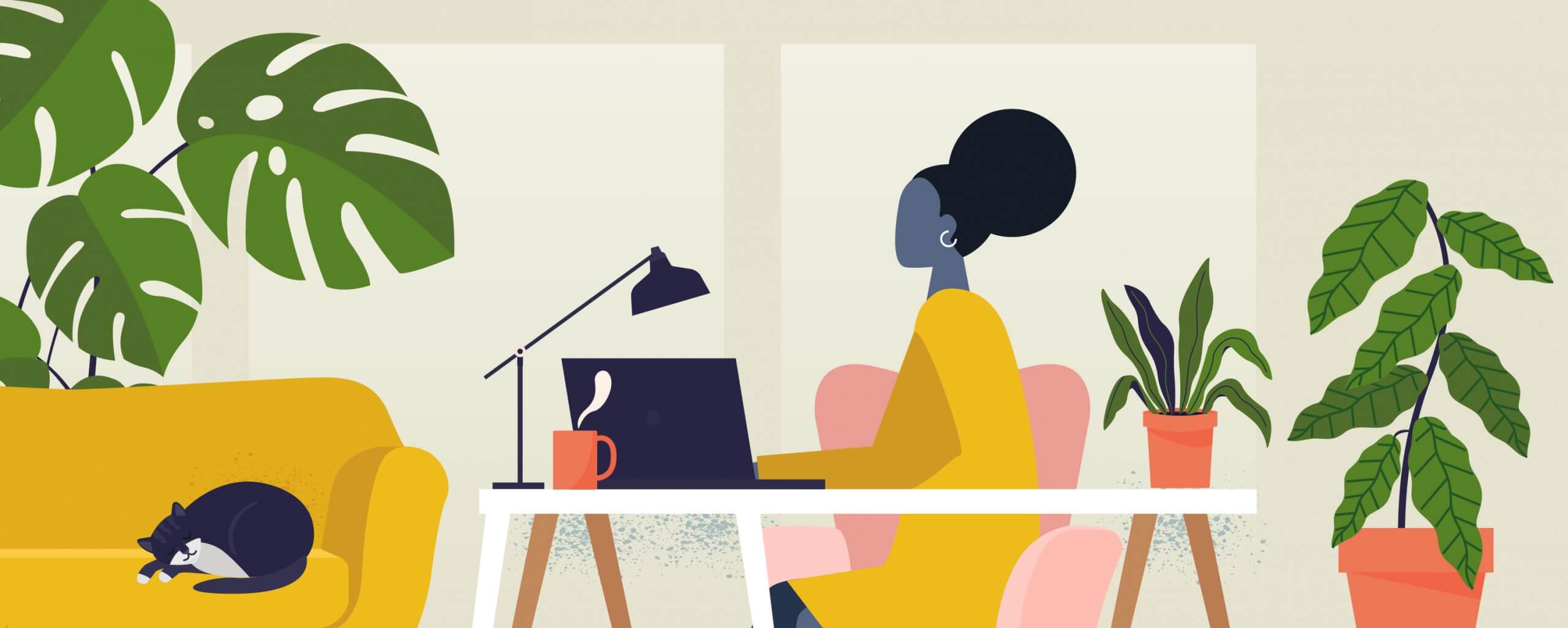 One of our newest Creatives shows us how to make your work from home setup work for you.
---
Editor's note: Even as some of our Creatives transition back to the office, many still work from home and are thriving in their home offices. Sasskia is one of ADG's newest Project Managers, keeping our projects running smoothly. She joined ADG the same week our offices were temporarily closing for the pandemic (talk about timing!). She onboarded and began working remotely. Sasskia quickly embraced the ADG culture and fit right in from the start, even remotely.  Here are her tips for a peaceful and productive work from home environment.

I haven't had a private workspace for about four years, so when the pandemic hit and we were forced to work from home, I took this opportunity to turn my home workspace into the ideal work oasis. Here are seven things I did to make me happier and increase my productivity in my home office to make it a space I enjoyed being in.
First things first — a new chair. The only thing missing from my office when this all started was an office chair. For the first week of working from home, I used one of my dining room chairs that are comfortable, but not ergonomically friendly. My dream chair has always been a Herman Miller Eames Chair, but at a whopping $2,295.00, there was no way I was going to get it. So I ordered a knockoff from Amazon for 100 bucks. I had that cheap chair for about two weeks before I returned it because it hurt my back. I ended up purchasing a standard "ergonomically friendly" (not so aesthetically pleasing chair)—again from Amazon—that still isn't that comfortable, but the return window has closed so I'm stuck with it. A quality, comfortable chair helps you sit at your desk and do your work, so don't go cheap.
Stick to a schedule! In the past when working from home, I did not like it because it was a drastic change in my schedule and it threw my rhythm off. One of the biggest tips I learned is that a schedule is key. In the morning, I try to work out, shower, make a nice cup of tea, and make sure to have my water handy (so that I still get my gallon of water a day) before clocking in as I would when I went into the office. I try to stand up at least once an hour to stretch my legs and give my eyes a break. I stick to my normal eating schedule so that I don't end up over-snacking, and as long as it's not raining, I take a mile walk during my lunchtime (gotta meet those step count goals).

Admittedly, I do not like white light. I always prefer yellow lighting. Office and school lights always make me a little feel a little bleh. I already had a desk in my basement.  I moved it upstairs in front of my living room window so that I could have "a view" and still get some natural light and vitamin D on my skin. According to the Daily Mail, sitting next to an office window can double your alertness and make you happier. "Exposure to bright light," they explain, "helps us to regulate sleep, boosts our mood, and even raises our productivity levels." I can attest that I do feel a lot more alert by sitting in front of a window. Not only does the brightness help me feel less sleepy, but it also creates good lighting for all of the "camera-on" Teams teleconference conference meetings.
No home office tour would be complete without inspiring a shopping spree, so here are some aesthetically pleasing accessories (and some intangible recommendations) that make my home office work for me.
I've become such a plant mom since the pandemic started. Plants and Kittles (my cat) have become my new coworkers. According to We Work, not only are plants aesthetically pleasing (which is the vibe I am trying to create in my space) "Plants are stress relievers, help 'replenish' our attention capacity, and they double as friends."


Ninety-eight percent of the time in the office, I have my earbuds in. When you don't have a door to drown out the noise of your surroundings, some noise-canceling Bose earbuds are always a clutch. I'm usually listening to music or a podcast. Now that I am home, I still have my earbuds in one ear, but I also play some relaxing music at a low volume in the background via my living room stereo. My favorite YouTube channel to listen to is the Chillhop/Chillcow channel that plays relaxing study/work music 24/7 for free. It creates such a chill vibe in the room and not to mention great background music during those long conference calls.

I love being in a clean, fragrant environment and I love candles. I have so many candles that I haven't had the opportunity to burn because I never used to spend so much time at home. I used this opportunity to burn my candles—again, setting such an aesthetically pleasing vibe. My favorite brand of candles is DW Home candles which can you can find at Marshalls and TJ Maxx. I light my candle, take a deep breath, open the blinds, and hit the keyboard.

Try to pick a couple of places to work for variety if you can, but avoid the bedroom—do not bring any work in there! I usually stay at my desk or try to get outside if the temperature allows.
Take a break. Do not run yourself ragged. 
At the end of the workday, I close my laptop, clean up my area, replace my water bottles for the next day so that I can step away for the day and start the next day fresh and in a clean environment.

---
As with all things, your experience is what you make it. I hope these tips inspire you to create an inspiring space for you to work in and hopefully help you make this working from home time more bearable.